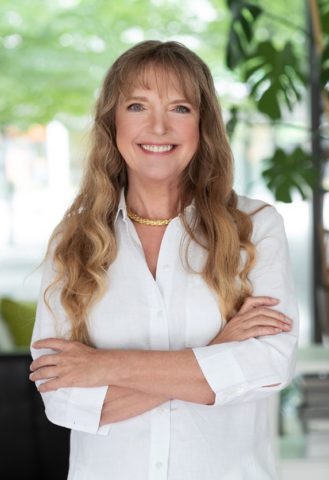 Born on December 31, 1956, Marion Schneider studied history, German language and literature, and folklore at Philips University in Marburg and Albert Ludwig University in Freiburg im Breisgau between 1975 and 1982, graduating with a state examination. From 1978 to 1979, she worked for one year as a language teacher in Halifax, England.
Marion Schneider worked in the health industry since 1983 to 2022, focusing on human health and how it can be influenced by therapy. She has been particularly interested in the effects of water, heat and light as well as architecture, art and music in the healing process. She contributed significantly to the introduction of synchronous balneophototherapy (Tomesa Therapy), i.e. the simultaneous effect of water and light on human health, as well as Liquid Sound – bathing in light and music. Since 1992, she has been particularly involved in focal short-term therapies and systemic therapy, as these can play a particularly important role in the process of rehabilitation. Her goal is that prevention and rehabilitation are given the leading role in the field of medicine as well as politics, because this is socially as well as economically necessary. She supports this process through publications, lectures and contributions at congresses and events.
Together with her husband Klaus-Dieter Böhm she was managing partner of Toskanaworld AG, an umbrella brand which bundles a variety of companies under the motto "Health and Happiness".
Marion Schneider is also active as an author. Some of her publications were developed together with the New Yorker photo artist Linda Troeller.
Marion Schneider's biography is part of the Marquis "Who is Who in the World" and the "2000 Outstanding Intellectuals of the 21st Century" directory of the International Biographical Centre Cambridge.
In recognition of above-average entrepreneurial achievements and services to small and medium-sized businesses, she was awarded the "Entrepreneur of the Year" award in the Weimarer Land district in 2006, and in 2009 she was appointed to the Hesse-Thuringia State Economic Senate of the German Association of Small and Medium-Sized Businesses. In 2018, the Prime Minister awarded her the highest honor of the Free State of Thuringia, the Thuringian Order of Merit, in recognition of outstanding services to the Free State and its people. Marion Schneider is an honorary citizen of her hometown Bad Sulza/Thuringia and was allowed to sign the Golden Book of her school town Lauterbach/Hessen because of her commitment to the former Jewish fellow citizens.
Professional career
Marion Schneider worked in the healthcare industry since 1983. Until 1987 she was an authorized signatory of the company Saunalux, until 1988 when she founded her own company TTS – Therapie- und Trainingssysteme and from 1990 to 2022 together with her husband Klaus D. Böhm, she first founded and ran the Bad Sulza Clinic Center and, from 1997, the hotel and spa operations.
Marion Schneider was managing partner of the following companies:
Toskanaworld
Klinikzentrum Bad Sulza
Toskana Therme Bad Sulza
Hotel an der Therme Bad Sulza
Hotel Resort Schloss Auerstedt
Toskana Therme Bad Schandau
Hotel Elbresidenz Bad Schandau
Toskana Therme Bad Orb
Hotel an der Therme Bad Orb
Hotel zum Ritter Fulda
Wayfarer Tours and Travels Pvt. Ltd.
Professional organizations
1985 -1987 Member of the Board of the German Sauna Association
1993 – 1997 Member of the Board of SG Medizin Bad Sulza
1995 – 2003 Member of the board of Wirtschaftsförderverein Apolda e.V.
1997 – 2000 Member of the "Education Committee" of the International Spa Association
1998 – 2002 Member of the Advisory Board of ASTECC – The American Spa Therapy and Education Certification Council, Florida/USA
2002 – 2012 Member of the Advisory Board Corporate Health Improvement Program, University of Arizona/USA
2004 – 2007 Board Member of the British International Spa Association (BISA)
2007 – 2011 Chairman of the Board of BISA
2015 – 2020 Member of the Global Thermal Think Tank and the Hot Spring Group within the framework of the Global Wellness Summit
2007 – today Member of the Board of the Academy of Medium-Sized Businesses Thuringia
2010 – today Advisory Board Member of the Global Health Institute of the Mel and Enid Zuckerman Institute of Global Health in Arizona
2014 – today Advisory Board of the German National Tourist Board
2016 – 2022 Member of the Board of the Sächsischen Heilbäderverbands Dresden
2022 Member of the board of the Engagierten Landgemeinde Bad Sulza e.V. i.G. (www.ehrenamt-bad-sulza.de)
She is shareholder of the Liquid Products & Service GmbH and the Toskanaworld India Pvt. Ltd.
Since 1997 Marion Schneider has been a speaker at many international and national medical, wellness and spa conferences in Japan, Italy, Cyprus, Brazil, USA, Monaco, France, UK, Greece, Turkey, Germany and Australia.
Voluntary activities
Marion Schneider is chairman of the board, member of the board or member of a number of associations:
Memberships:
Art Association Apolda Kunstverein Apolda Avantgarde e.V.
Spa promotion association Kurförderverein Bad Sulza e.V.
Support association Förderverein Auerstedt e.V.
Nature friends local group Naturfreunde Ortsgruppe Lauterbach/Hessen
SG Medizin Bad Sulza
Sponsoring association Förderverein Lutherkirche Apolda e.V.
Support association elementary school Förderverein Grundschule Bad Sulza e. V.
Association for the promotion of the archive on the history of the German water industry (Verein zur Förderung des Archivs zur Geschichte der deutschen Wasserwirtschaft (FöV AGWA e.V.)
Support association Förderverein "Sankt Mauritius Kirche" Bad Sulza e. V.
Association for the promotion of the history of Judaism Förderverein zur Geschichte des Judentums im Vogelsberg e. V.
Local history and tradition association Heimat- und Traditionsverein Auerstedt e. V.
Weimarer Republik e. V.
Hunting club Apolda e.V.
German Psoriasis Association e.V. Deutscher Psoriasis Bund e.V.
Publications:
https://de.wikipedia.org/wiki/Marion_Schneider_%28Autorin,_1956%29#Publikationen
Photographs by Linda Troeller
Download images in high resolution.