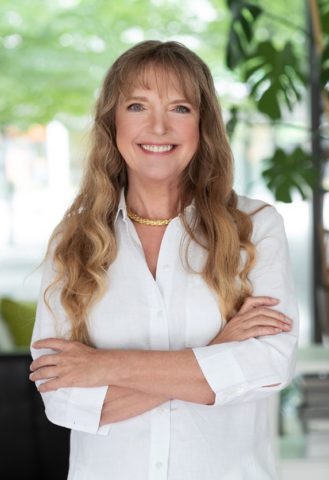 Marion Schneider Biography
Since 1983, Marion Schneider has been active in the healthcare industry, focusing mainly on human health and how it can be influenced by therapy. In the companies of her parents, Saunalux and Tomesa, she studied the effects of water, warmth and light to develop and sell products and therapies for health and the treatment of chronic diseases. 1990 she started her own company Klinikzentrum Bad Sulza with her husband Klaus Dieter Böhm which later became part of the Toskanaworld AG together with five hotels, three Toskana Therme and four Wellnessparks. Toskanaworld is applying architecture, as well as art and music on the healing and relaxation process. Ms. Schneider has significantly contributed to the introduction of balneophototherapy (Tomesa therapy), that is, the effect of the simultaneous application of water and light on human health, as well as Liquid Sound – bathing in light and music. In her responsibility for patients, she has been dealing with focal short-time therapies like relaxation techniques, NLP and family constellation work, as these can also play a significant role in the rehabilitation process. Her personal goal is to give prevention and rehabilitation a key role in politics as well as in medicine as this is not only socially but also economically most reasonable. Apart from her daily work, she is writing and publishing articles and books, is giving lectures and is contributing to conferences and congresses.
Born on December 31st, 1956, she studied History, German Language/Literature and Ethnology in Marburg and Freiburg, Germany. During her studies she worked as a language teacher in Great Britain for a year.
Ms. Schneider started her international professional activities with the membership in the International Spa Association in 1997 and became Board Member and later Chairwoman of the British Spa Association from 2004-2011. She was Board Member of ASTECC (American Spa Therapy and Education Certification Council) and was on the Advisory Board of the Corporate Health Improvement Program of the University of Arizona. She was part of the Global Thermal Think Tank, the Hot Spring Group of the Global Wellness Institute, board member of the Saxon Spa Association and an Advisory Board member of the Global Health Institute, Mel and Enid Zuckerman Institute of Global Health in Arizona.
Since 1997, Marion has been a speaker at many national and international spa and business events in Japan, Italy, Cyprus, Brazil, USA, Monaco, France, Great Britain, Greece, Turkey, Germany and Australia.
Alongside her business activities, Marion Schneider is active in several charities, one of them as Director of the International Children's Fund Ourchild e.V.
Marion Schneider's biography is in the Marquis »Who Is Who in the World« and the index of "2000 Outstanding Intellectuals of the 21st Century" at the International Biographical Centre in Cambridge. In 2006, she received the award of Entrepreneur of the Year of Weimar Land, where she is located, and in 2018, she received the Order of Merit of the Land of Thuringia, the German state where she is living.
Publications:
Photographs by Linda Troeller
Download images in high resolution.