A planned art exhibition at Ordensburg Liebstedt featuring works by participants of the international Altzella workshop is a tribute to the work of artist and cosmopolitan Batuz. On May 27, 2023, the peacemaker and thought leader will turn 90.
A "place of peace and dialogue in the middle of Germany" is what the Ordensburg in Liebstedt is intended to be, in complete contrast to its original use for protection against enemies. This is the forward-looking idea of managing director Klaus Dieter Böhm and the other owners of the castle for the last, largely preserved building complex of the German Order of Knights in Thuringia.
Living in a peaceful world in which the community of people communicates with each other regardless of position or property is considered the vision of the U.S. artist, philosopher, cultural activist and global citizen Batuz, the founder of the Société Imaginaire, an institution for intercultural communication through art. Born in Budapest to a family of Hungarian landowners, he will turn 90 on May 27, 2023.
Batuz's ideas, his tireless work striving for peace, deeply committed to humanism, should prove meaningful for Liebstedt Castle in this context. That is what Marion Schneider thinks. The Auerstedt businesswoman, historian, author, politician was also lastingly inspired and shaped for her own life by personal encounters and direct involvement in the artist's projects. Commitment to peace, civil courage and the willingness to engage in constant and unbiased dialogue have been decisive for her life's journey so far. Marion Schneider has herself acquired many works of art created by participants in the international Altzella workshops initiated and shaped by Batuz in the 1990s-2000s. From now on, the paintings, bursting with creativity, can be admired in an art exhibition at the Ordensburg. "Participants from over 30 different countries came together and spent three weeks each in Altzella, day and night, without any other means of communication with the outside world. This awakened their creativity and so they devoted themselves exclusively to art," says Marion Schneider, explaining the distinctive creative atmosphere and the background to the creation of the works on display. By living and working together in the isolated monastic environment devoted only to art, the participants would have discovered ways into each other's minds that would otherwise be almost impossible in our modern, turbulent and divided society.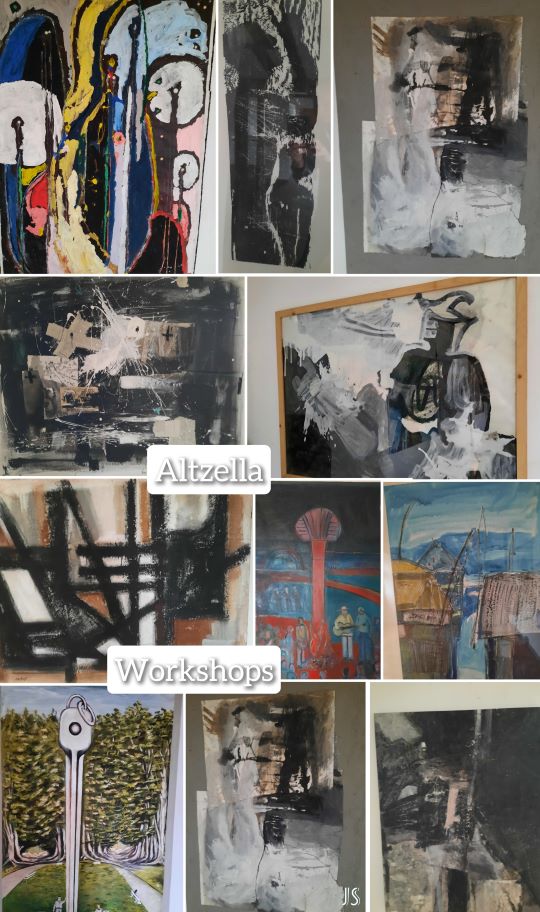 Batuz himself explained his working principle in the preface of a catalog for his "Working Center" in the Saxon monastery of Altzella as follows: "In these projects, people, regardless of their cultural background, social position, age or profession, have met in person. They got to know each other better through joint work and they still maintain personal relationships today through the 'correspondence'. Today, more than ever before, there is a need for people to communicate in person in order to avoid conflicts brought on by reasons of alienation."
For Batuz, the idea of people living together without borders and in peace is rooted in his own terrible experience. Shortly before the end of World War II, the family fled the Red Army to Austria and was never to return to Hungary. The family lived in refugee camps and emigrated to Argentina. There, the now cosmopolitan first began painting in a naturalistic style as a self-taught artist. In the beginning he copied old masters and impressionists in order to contribute to the family income. But he also pursued studies in aesthetics and philosophy and was strongly influenced by Ortega y Gasset. In 1973 Batuz moved with his family to the USA.
Marion Schneider sees the art exhibition with the works of Altzella participants at the Ordensburg as a beginning. In connection with it, she is planning a book: "If only the paintings were presented, it would only be an aesthetic experience. But if it succeeds in describing the entire atmosphere and background of the creation of the works and the creative work of Batuz, that will make the works a collection of enormous significance."
Jörg Schuster (german text – translation by Markus Wahl)
The Societé Imaginaire lives on!
The Societé Imaginaire, founded by the artist Batuz, unites art and politics as well as civil society and the military in an effort to communicate together. Talking to each other and understanding each other – that is the basis for peace. Communication not only with words, but also with deeds, joint actions, through visualization. Batuz has created a world without borders with his life's work.
Whether social, religious, cultural, ethnic or national borders – Batuz calls to overcome them. The project "no mas fronteras" – no more borders – was not only an art action in different countries of the world with different participants, but became a part of Batuz's visual work, culminating in 2007 in the installation "Helmets for Peace" – helmets for peace – prepared by a series of cross-border art actions since 2002.
Batuz's idea of the "Societé Imaginaire" represents the most important philosophical and artistic work. The Societé Imaginaire is a community of "like-minded dissenters," as Batuz himself puts it: it brings different worlds together to create a new world. From 1993 to 2005, Batuz invited creatives from art, science and academia from all over the world to Altzella in Germany. The former monastery became a laboratory for social and artistic creation.
Many people today no longer rely on their own memory because they can find any information at any time on the Internet. They consider it superfluous to build up their own knowledge of history, philosophy, art and culture – and thus become guided. The flood of information often leaves us perplexed, looking for orientation and, on closer inspection, seeing many questionable prophets and prophetesses.
"We have to think the world anew, give up old habits…, design a world view, on which man can orientate himself anew…. We want to explore steps into this new world together," Batuz says. As global as this process may be, it also needs a home and a future.
In Liebstedt Castle in Thuringia, Germany, this world has found its new home.
Happy birthday, dear Batuz!
Marion